Results tagged ' Thurman Munson '
Where were you 30 years ago today?
Getty Images
Well, many of you probably weren't even born yet. But those of us who were most likely will remember August 2, 1979…particularly Yankees fans. The day saw the untimely demise of #15, the Yankee Captain, Thurman Munson.
As a teenage Yankees fan, Thurman had been my hero. While I have always credited Jim "Catfish" Hunter and the legend of Lou Gehrig as the primary reasons I became a Yankees fan despite growing up in the Midwest, it was the tough and tenacious Munson that quickly became my favorite player.
Thurman was his own man and he wouldn't let anyone push him around. Not George Steinbrenner, not Billy Martin, not Reggie Jackson, not Carlton Fisk. I will always remember the 1976 World Series…not for the series sweep at the hands of the Big Red Machine but how Thurman wouldn't quit. He hit .529 in the series, and at one point, had six consecutive hits. His performance laid the foundation for the championship years of 1977 and 1978.
I had known about Thurman's interest in airplanes, and how he viewed it as a way to reach his family in Ohio more often. Selfishly, I was hopeful that he'd never leave the Yankees in the late 70's/early 80's, but I had become increasingly fearful that he would leave at the end of his contract to sign with the Cleveland Indians (to be closer to his home). Unfortunately, I never saw that day come and will never know if Thurman would have truly left or if he would have stayed to finish his career in pinstripes.
On August 2, 1979, I was in high school and employed by a local grocery store in a small Iowa town. I was working when one of our customers told me that they had just heard Thurman Munson was killed in an airplane crash. I vividly recall just standing there with a blank look of disbelief frozen on my face. My hero had just died…
It is a loss that I personally will never forget. I think about Thurman every August 2nd, and I see his spirit continue to thrive in present day Yankees like Derek Jeter, Jorge Posada, and Mariano Rivera.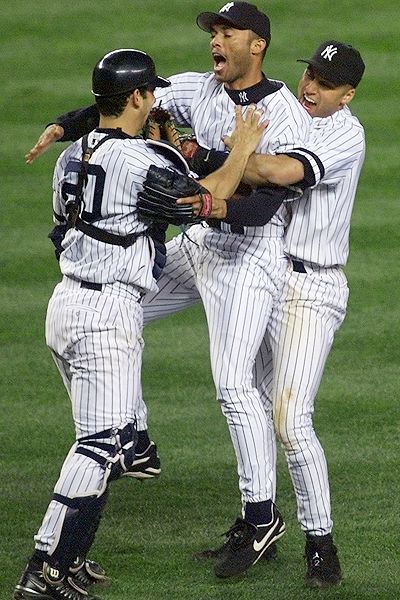 Doug Kanter/AFP/Getty Images
Today was a day to remember Thurman and we continue to owe him a debt of gratitude for the way he wore pinstripes. Thanks for the tremendous memories, Thurman. You are still my hero…
For a great article about Thurman Munson, please read Moss Klein's article in The Star Ledger, entitled Catcher Thurman Munson, The Captain, was the Heart and Soul of the NY Yankees. It's an excellent read.
YANKEES WIN…FINALLY…
The Yankees were able to beat the Chicago White Sox today, 8-5, to avoid being swept in the four game series which began last Thursday.
Mike Carlson/AP
Melky Cabrera became the first Yankee since Tony Fernandez in 1995 to hit for the cycle. Melky went 4-for-5 with 4 RBI's and 2 runs scored. He staked the Yanks to an early lead with a three-run homer in the second inning.
Tannen Maury/EPA
In the 9th, needing only a tripe, Melky hit a liner off the right field wall. Trying to do his best impression of Brett Gardner, Melky sped around the bases and just beat the relay throw to third for his first triple of the season and completed the cycle.
Nam Y. Huh/AP
It wasn't a great game for CC Sabathia (perhaps he was still disappointed that his buddy, Victor Martinez, now calls Fenway Park home), however, he gutted it out and stayed in the game into the 8th inning. Mark Buehrle, fresh off a perfect game just two starts ago, was the loser.
Nam Y. Huh/AP
With the win, the Yankees remain a ½ game ahead of the Boston Red Sox in the AL East. The Red Sox throttled the Baltimore Orioles today, 18-10.
Nick Wass/AP
Hey Julia, just 4 more days until the showdown resumes. From what I can tell, the Yankees have finally figured out a way to beat a team called the Sox! Life is good!
With today's game, Derek Jeter has now played in 2084 games, which ties Babe Ruth for fourth place on the list of most games played with the Yankees.
AP file
A DAY IN SAN FRANCISCO
My wife and I attended the San Francisco Giants game against the Philadelphia Phillies today at AT&T Park. It was a beautiful day for a game. The weather forecast was cloudy and 59 degrees, however, after early cloudiness, it was all sunny skies and 66 degrees. The Giants prevailed, 7-3, with Barry Zito getting the win over Cole Hamels.
AT&T Park is one of my favorite ballparks, and today was definitely a treat…
Okay, I did have to make sure that I kept an eye on a certain American League score…
…but I managed to watch the Giants win a great game!
Late in the game, a Dodgers fan walked up the stairs to leave the game. The crowd booed and hissed unmercifully while the Dodgers fan just soaked it all in and waved his Dodgers cap with pride. After the Dodgers fan had exited, a Boston Red Sox fan made the same exit except this time, no one said anything at all. The Red Sox fan was ignored as he quietly left the stadium. Ah, I love being back in the Bay Area…
–Scott
Posted on August 3, 2009 at 12:19 am

Filed in:

Dailies
The question has been asked on multiple blogs, but it is always very relevant and quite interesting…
Why did you become a fan of your favorite baseball team?
Often, it's simply geography or a family's passion that is passed from generation to generation. But other times, there are deeper, individual reasons for why we follow certain teams.
I have always been quick to say that I became a Yankees fan on December 31, 1974. That's the day Oakland A's free-agent pitcher Jim "Catfish" Hunter signed a 5-year, $3.75 million contract with the Yankees.
Walter Iooss Jr/SI
The early 70's were a great time to be an A's fan, and I was on the bandwagon like all my friends. But I was starting to get older and had gained a better awareness and understanding of baseball. After some careful thought, I decided to follow Hunter to New York in terms of my loyalty and support. I was immediately captivated by the personalities on the Yankees roster, and Billy Martin was quickly my all-time favorite manager. Thurman Munson became my idol, and I can still remember the magic and excitement when Chris Chambliss hit the game winning home run in the 1976 ALCS against the Kansas City Royals (I remember watching his foot placement in the batter's box and feeling that something huge was about to happen).
New York Daily News
I remember my mom was getting tired of me telling her that Reggie Jackson had hit another home run in the 1977 World Series, and sadly, I remember exactly where I was on August 2, 1979.
Yet, when I think about why I was attracted to the Yankees, it really happened much earlier. When I was about 7 or 8, I read a book about Lou Gehrig.
At the time, I was just starting to become aware of Major League baseball. I was drawn to the history and aura of the game. I "discovered" pro football first, but baseball quickly passed football as my true love. Today, Lou Gehrig is my personal all-time hero, and hence, the source of the name for my blog.
"I'm not a headline guy. I know that as long as I was following Babe Ruth to the plate I could have stood on my head and no one would have known the difference."
–Lou Gehrig
There are multiple meanings in this quote for me personally. Not only does it pay homage to the great class and character of Lou Gehrig, but it also recognizes that I am among greatness at MLBlogs with so many outstanding writers.
I have always been drawn to the history of the Yankees, so I think the book about Gehrig set the stage for my conversion from an A's fan to a Yankees fan a few years later.
A very moving article to read is the "This Morning with Shirley Povich" column that appeared in the Washington Post on July 5, 1939. The Washington Senators played a double-header against the Yankees on July 4th, and Gehrig gave his immortal farewell speech between games.
Yankees manager Joe McCarthy made the following statement at the mike that day while openly crying: "Lou, what else can I say except that it was a sad day in the life of everybody who knew you when you came to my hotel room that day in Detroit and told me you were quitting as a ball player because you felt yourself a hindrance to the team. My God, man, you were never that."
I think that quote alone can sum up why I feel that Lou Gehrig was such a special person…
The Senators won the first game, 3-2, but the Yankees came back to win the second game, 11-1, after Gehrig's farewell.
This is an excellent tribute to Lou…
Who would have known it would set me on a collision course against Julia of Julia's Rants? ;)
Posted on March 21, 2009 at 11:05 am

Filed in:

Dailies