Results tagged ' San Francisco '
The return of Larry Bowa's nephew…
WFAN
Although they never wore the pinstripes at the same time, former coach Larry Bowa's nephew, Nick Johnson, is coming home. Traded to Montreal in 2003 for pitcher Javier Vazquez, Nick has signed a one-year deal for $5.5 million, with a mutual option for 2011, to return to the Bronx.
During Nick's "exile", winning baseball was not necessarily a common theme among his teams with the Montreal Expos, Washington Nationals, and Florida Marlins. Nick is eager to return to a team with a "win at all costs" attitude. Nick could have signed with the San Francisco Giants as their first baseman, however, his first love remained the Yankees. So, once the Yankees expressed interest, no other team really had a chance with Johnson.
Hector Gabino/Miami Herald
Nick slots in nicely at the top of the batting order behind leadoff hitter Derek Jeter. Nick has a knack (no pun intended) for getting on base. His career on-base percentage is .402.
Welcome home, Nick! We're glad you're back!
Given that the Yankees have now reacquired the two primary players in the December 2003 deal that sent Nick to Montreal and brought Javier Vazquez to the Yankees (the first time), they should consider calling the Los Angeles Angels and the Tampa Bay Rays about the availability of outfielder Juan Rivera and reliever Randy Choate, respectively.
Gary A. Vasquez/US Presswire
Although those are positions of need, I do not really want to see the return of either Rivera or Choate, but the Yankees do need to get creative about filling the hole in left field. It bothers me that the team hasn't figured out a way to unload pitcher Kei Igawa, particularly when his salary could go a long way toward bringing in a solid left fielder. The Yankees say they'll go with Brett Gardner and Jamie Hoffmann. While I don't feel you need an All-Star in left, I don't think that Gardner and Hoffman, individually or collectively, are the answer. I have genuine concerns about Nick Swisher's encore performance and the Yankees do not need simultaneous struggles at both outfield corners. I'd rather pay for a sound and dependable solution for left and then be prepared for Plan B in right.
Best case scenario is the return of Johnny Damon. It could still happen but Damon's price tag will have to come down. The other solid option (Mark DeRosa) appears to be dissipating as DeRosa is apparently favoring an agreement with the San Francisco Giants. Hey, as a Bay Area guy, I can't find fault with someone who wants to call the area home. San Francisco's a great town with a terrific ballpark.
Reed Johnson's name has been mentioned but I am less than enthused. Johnson missed 49 games in 2009 for the Chicago Cubs after fouling a pitch off his left foot which caused a fracture. A career .282 hitter, Reed only batted .255 in 65 games last season with 4 home runs and 22 RBI's.
His scouting report¹ says that "Hustle is his strongest suit. Makes consistent contact and hits well with runners in scoring position – especially against lefties. Is a good outfielder." The report goes on to say "he struggles against finesse pitchers and righties. A quality platoon or 4th outfielder." It sounds like he would be more capable as a back-up for Curtis Granderson in center than a starter in left.
¹Source: Sportsnet.ca Ontario
Lobbying for the Cubs to re-sign Johnson in September, pitcher (and former Yankee) Ted Lilly was seen wearing a t-shirt that read "With Reed, we will succeed". Maybe for Lilly and the Cubs, but not for the World Champions. Pass…
So now Jason Bay and his agent are calling the Boston Red Sox? Maybe Jason has started to send Theo fruit baskets like Julia did every day last season! Ha! I bet the Red Sox offer of 4 years and $60 million is looking very appealing these days. But of course, after Boston's signing of John Lackey and Mike Cameron, the money offered to Bay is probably no longer available. Bay has a 4 year, $65 million offer from the New York Mets. However, $5 million extra over 4 years is not worth the mess known as the Mets. Bay's best option is to remain in Boston but it is questionable whether the Red Sox have room in the 2010 budget at this point. Bay, at this point in time, appears to have overestimated his worth in the current free agent market. Financial constraint being shown by both the Yankees and the Red Sox…what is the world coming to? ;)
Finally, I'd like to wish all of you a very Merry Christmas and Happy New Year! May this be a season of joy for you and your family, and here's hoping that 2010 fulfills your every dream! Well, except for a World Series championship…I reserve that one for Yankees fans! J
Posted on December 24, 2009 at 7:03 pm

Filed in:

Dailies
I enjoyed my evening. How about you?…
The Yankees completed a three-game series sweep over the Orioles in Baltimore with a convincing 10-2 victory on Wednesday. CC Sabathia continued his recent hot streak (hasn't lost since July 28th), and became the AL's first 16-game winner.
Rob Carr/AP
There were three games of importance tonight:
Yankees 10, Orioles 2
Rays 8, Red Sox 5
Mariners 3, Angels 0
The outcomes meant that the Yankees increased their lead in the AL East to 7 games over the Red Sox, and best record in the AL to 6 ½ games over the Angels. It's tough to gloat at this point in the season because the thought of Gene Mauch and the 1964 Philadelphia Phillies is never too far from memory. But I am pleased with where the Yankees are at this point in the season.
Walter Iooss, Jr/SI
The latest series sweep by the Yankees was very convincing. It featured a stellar pitching performance by Andy Pettitte, whose attempt for a perfect game was disrupted on an error by third base Jerry Hairston, Jr. A.J. Burnett continued his impression of an injured Chien-Ming Wang, but Yankee homers came to the rescue. Finally, it was the combination of Sabathia and Alex Rodriguez that secured the sweep.
Rob Carr/AP
The Yankees are 72-33 since A-Rod returned from hip surgery, and it's starting to look like he may not need additional surgery after the season. Tonight, he notched his 2,500th career hit, and paced the Yankees with 4 RBI's.
Rob Carr/AP
In an interesting stat, Eric Hinske has only 14 hits since he joined the Yankees, but 7 of those hits have been home runs including one tonight.
Rob Carr/AP
Derek Jeter now stands 9 career hits behind the legendary Lou Gehrig for the most career hits with the Yankees. Larrupin' Lou had 2,721 hits, while DJ has 2,713. Admittedly, it is bittersweet to see another Gehrig mark fall, but I am happy for Jeter. I am sure that Lou would be standing and clapping when Derek gets his 2,722nd hit.
Rob Carr/AP
There are reports that Mariano Rivera will miss the next few games with a slight groin injury. That hurts just to type it! ;) Hopefully, it isn't too serious and he's back soon. Meanwhile, the other guys in the pen will need to step it up. Hughes, I am not talking about you!
Ouch!
There's a chance that Brett Gardner will be back in uniform by the Rays' series. His hustle and 'all-out' style of play have been missed despite the Yankees' continued success.
The Yankees begin a four-game series against the Blue Jays in Toronto on Thursday. The scheduled starter is Chad Gaudin. It is anticipated that Sergio Mitre will pitch Sunday, so I can't say that I am overly optimistic about the upcoming series. At first pass, I'd have to say that I'll be pleased with a split. On Monday (Labor Day), the Yankees will open a four-game set with the Scott Kazmir-less Tampa Bay Rays. They'll play two on Labor Day to get things started. So, it isn't going to get any easier for the next week. I am sure that my friend Julia in Boston is licking her chops…
What is it with ex-Red Sox pitchers? They stink it up in Boston, and then go to the National League and pitch lights out. John Smoltz struck out 9 batters in his first start with the St. Louis Cardinals. Tonight, Brad Penny pitched eight scoreless innings for the San Francisco Giants to defeat the World Champion Philadelphia Phillies. Considering that the Giants are my team in the NL, I am pleased for the performance considering that the Giants are neck-and-neck with the Colorado Rockies for the wild card chase. I also liked the anti-Dodger comments that ex-Dodger Penny made. Given that he has made some disparaging comments about the Florida Marlins, I wonder how long before he rips into the Red Sox Nation…
Matt Slocum/AP
Based on the Red Sox pitchers success in the National League, I guess that means Nick Green will be next year's NL Cy Young winner! LOL!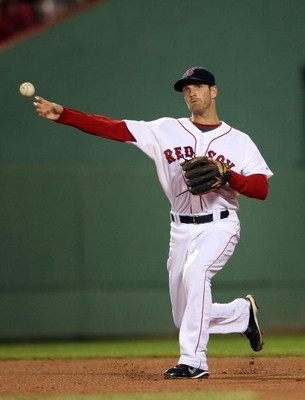 Elsa/Getty Images
Okay, I still can't wrap my head around Brett Favre being my team's starting quarterback. How do you suddenly begin cheering for a guy that you "hated" for 16 years. How many times did you think your team was going to win, only to see Favre throw a last second TD to pull out a win for the Pack? I'll admit that I've embraced Johnny Damon despite his previous employer. But then again, I always liked and respected Damon. Even as a Red Sox player, he was always very classy and professional. So, I couldn't "hate" him. I tried to think of a Red Sox player that I wouldn't want on the Yankees roster. The first one to come to mind is Josh Beckett. But I still think of him more as a Florida Marlin, so that doesn't really count. Maybe David Ortiz. But I can't help but like the guy. I have no problems with Jason Bay, and he would be welcomed to left field in the Bronx with open arms. There really isn't anyone in any sport that I can compare to how difficult it is to see a bitter rival where your team's colors. Plus, Favre just looks kind of funny in purple. Maybe Favre should have went to play for Dallas. Watching all those Packers-Cowboys play-off and Thanksgiving games showed that Favre had an affection for throwing to the guys with a silver star on their helmets. Nevertheless, I guess I had better get used to #4. He is not going away. Not this season at least. I remain hopeful that the final Vikings roster of 53 includes John David Booty because I still think he's the QB of the future. But I guess this season I'd better learn to enjoy eating cheese…
Chris Polydoroff/Pioneer Press
Finally, I went to see Nickelback perform last night at the Shoreline Amphitheatre in San Jose, CA. I am a huge Nickelback fan so I had high expectations. But this was easily the best concert I've ever attended. Chad Kroeger is a master showman, and he definitely knows how to engage a crowd. He's the type of guy you'd love to have a beer with, except you'd never get in a word edgewise. I was thoroughly impressed, and I recommend the Dark Horse Tour for anyone who hasn't seen it if it is coming to a city near you. Hinder was also excellent. The concert will leave you feelin' way too damn good…
Given that his club hits record is being assaulted, I will end this blog with a call out to Lou Gehrig. Lou, you remain the Pride of the Yankees, and you are an inspiration for the world! We will never forget you…
Posted on YouTube by RUKidding05
P.S. I know that I've used this video before, but it remains one of my all-time favorites…
–Scott
Posted on September 3, 2009 at 12:14 am

Filed in:

Dailies