Results tagged ' Phil Coke '
You win some, you lose some…
cache.daylife.com
Okay, so maybe I was expecting an early April ten-game winning streak. Hey, a guy can dream right?
It's nice to see the team do well despite the absence of Alex Rodriguez. I'd hate for him to come back and be the "savior". Of course, as long as Joe Girardi keeps penciling in Cody Ransom's name at third, anyone except Cody would look like a savior…
Jay Grabiec/The Daily Eastern News
Joba Chamberlain pitched well enough to win. He went six innings, and gave up four hits. He allowed three runs, but only one was earned. He struck out five. The Yankees had a 4-3 lead in the 8th inning, but the Royals scored three runs against relievers Jose Veras and Phil Coke.
Nick Swisher started again at first base in place of Mark Teixeira, who has missed two games with tendonitis in his left wrist. Teixeira says that he can field without any problems, and bat lefthanded. The wrist only hurts when he tries to bat righthanded. With lefty Scott Kazmir on the mound Monday in Tampa, Teixeira will again take a seat on the bench. But Joe Girardi hopes that he will be available to pinch hit if necessary.
Monday will be a tough matchup for the Yanks. Kazmir is pitching great right now, and Chien-Ming Wang has continued to struggle. The Yanks hope is to keep it close until they can wear down Kazmir and get to the Tampa bullpen. Of course, that's still not an easy task, so I am not too confident about Monday's game. If Wang doesn't bring his "A" game, I can see disastrous results when he faces Rays third baseman Evan Longoria.
I know that Canuck will be anxiously awaiting the conclusion of the game so that she can post another 'That's my Scotty!' post regarding her favorite Rays pitcher. I hope that the Yanks can delay that post by five days…
Congratulations, Scott!!!
I hope Tuesday morning, Canuck is talking about me, and not Kazmir!
On the bright side, the Boston Red Sox lost so the day wasn't a complete disaster!
JULIA'S BOYS ARE FIGHTING AGAIN
In the first inning of Sunday's game between the Boston Red Sox and Los Angeles Angeles, Bobby Abreu took issue with a pitch that sailed high above his head as time was being called by the plate umpire. The benches cleared, but no punches were thrown. Then, Josh Beckett had some heated words for Angels manager Mike Scioscia, and the benches cleared again which led to some pushing and shoving. Four Angels were ejected from the game (Manager Mike Scioscia, centerfielder Torii Hunter, reliever Justin Speier, and hitting coach Mickey Hatcher).
AP
At first glance, it would appear to me that Bobby Abreu overreacted to Beckett's pitch. I don't know what words were exchanged, but it did appear to me that Beckett was only reacting to words said to him by the Angels.
Of course, this is just an average fighting-kind of week for Julia. Her "weakness", i.e., Toby Keith was involved in a tiff with actor Ethan Hawke earlier in the week…
http://www.comcast.net/ve/1.0/1084909013/555/457/
AP via Comcast.net
Does she really think that I am going to wear a pink hat? Them's fightin' words!
WHAT WAS SHE THINKING?
Okay, this is a little off topic. My apologies. But what was the 32-year-old woman at the Berlin Zoo thinking when she jumped into the Polar Bear Pen, and proceeded to get mauled by the bears before she was rescued. It was definitely one of the most bizarre things I've seen. Well, next to why someone would be a Red Sox fan! 😉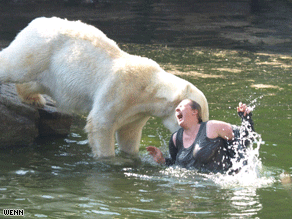 * * *
I hope everyone had a very enjoyable Easter with friends and family! Have a great week!
–Scott
Posted on April 12, 2009 at 8:58 pm

Filed in:

Dailies
Tags: Bobby Abreu, Joba Chamberlain, Jose Veras, Josh Beckett, Phil Coke, Rays, Red Sox, Royals, Scott Kazmir, Yankees
Longest Records
Gunsmoke holds the record for the longest running TV Series. It aired on CBS for 20 years, from 1955 to 1975…
The Simpsons, which debuted in 1990, is the longest running animated series. It was recently renewed for at least two more seasons which will make it the longest running TV Series…
The longest running TV Show is Meet The Press, which went on the air November 6, 1947…
The longest running marathon is the Boston Marathon, which has been run for 112 years…
AP
The longest running Broadway Show is The Phantom of the Opera, which opened January 26, 1988…
The longest recorded duration for balancing on one foot is 76 hours and 40 minutes. This was accomplished by Arulanantham Suresh Joachim at Vihara Maha Devi Park Open Air Stadium in Sri Lanka from May 22, 1997 to May 25, 1997…
On a related note, Manny Ramirez has finally re-signed with the Los Angeles Dodgers…
The deal is at $45 million for two years. Manny will get $25 million for the 2009 season and has until November to decide whether to void the second season, which calls for $20 million. There is some deferred money involved despite Scott Boras' reluctance to accept same. The deal also includes a full no-trade provision.
This ordeal might have been just as excrutiating as long season's debacle with the Packers and Brett Favre.
But at least it's done, and Manny can take his bat and dreadlocks to Arizona. But considering that Derek Lowe is in Atlanta, Brad Penny is in Boston and Clayton Kershaw is not quite ready to reach for his potential, Manny should have the month of October off to contemplate his future…
A-Rod, Repeat After Me, "No Comment"…
According to MLB.com, Alex Rodriguez was reaping praise about the New York Mets' very talented shortstop Jose Reyes, and he made a comment that he wished Reyes was on the Yankees. Of course, the comment slams not just one but two players…shortstop Derek Jeter and leadoff hitter Johnny Damon.
After weeks of listening to Alex say the wrong things, maybe he should consider saying nothing…
Where is Agent Smith when you need him? 😉
Then again, you can't always believe what Alex says…
Coke, It's The Real Thing…
After watching Phil Coke pitch this spring, I am very impressed. His fastball is only 92 to 94 MPH, however, it looks faster…deceptively faster.
It definitely makes me appreciate that he was not included in the Pirates trade that brought Xavier Nady to the Yankees.
I am looking forward to watching Coke out of the bullpen for the entire season this year. I am with the majority that believes the Yankee bullpen will be very solid this year (with or without Joba Chamberlain serving in a setup role).
I suspect that Joe Girardi will be reaching for a Coke quite often this season…