Results tagged ' Minneapolis '
As the Fonz said, I am 'wrrrro…, I am wwwrrroo..'…
I was a pessimist in spring training…a non-believer.  I didn't think the Yankees could compete with the Boston Red Sox with their current roster after the off-season spurning by pitcher Cliff Lee.  At the time, the Yankees were trying to piece together a rotation that was void of both Lee and Andy Pettitte, who opted to retire.
At the trading deadline, the Yankees were silent while the Red Sox were busy acquiring infielder Mike Aviles from the Kansas City Royals and pitcher Erik Bedard from the Seattle Mariners.
Yet, on the morning of August 16th, the Yankees found themselves in a first place tie with the Boston Red Sox.  Not bad for a team that has been rated as inferior to the Red Sox by so many, including me.  It is no secret that the Red Sox have owned the Yankees in their head-to-head match-up's but of course that doesn't mean a thing in October.  Still, if the Yankees had been able to at least play .500 ball against the Sox, they'd have a fairly comfortable lead in the division.  That's probably where Lee and Pettitte would have made a difference, but who knows, perhaps they could have been even worse.
Despite the team's success, I still do not like the prospects for October against the Red Sox and the Texas Rangers.  Like the Red Sox, the Rangers were able to add some quality arms to the bullpen when they picked up Mike Adams from the San Diego Padres and Koji Uehara from the Baltimore Orioles.  I do not like moves for the sake of simply making a move so perhaps the Yankees did the best thing by standing pat.  But the team still has too many shortcomings that can be exposed in a short series.  Part of me pulls for a Bronx return by Hideki Matsui who has cleared waivers for the Oakland A's.  Matsui has shown there is still 'clutch' in his bat and used in the right spots, he could be a valuable weapon.  The team is counting very heavily on the return of Alex Rodriguez, but they need a contingency plan.   The DH spot has been weak, for the most part, with Jorge Posada and Eric Chavez.  Granted, Posada had a recent 6 RBI game that that's clearly an aberration at this point of his career.  I haven't seen too many timely hits off his bat this season.
GM Brian Cashman is making the usual comments that he does not envision any trading activity this month, but of course, you never really know what is up his sleeve.  So much of it has to do with posturing and trying to make the opposition believe that you aren't desperate.
What have you done for me lately…
As for Posada, I am ready to cut ties.  He has been a long and faithful Yankee, and certainly a very passionate one.  However, I do not see a role on the 2012 Yankees for him.  At this point, he has become a liability, and if he wishes to extend his career, I am okay with it being in another uniform.  Hopefully, he doesn't decide to go someplace like Boston, but I'd hope that he would make a respectful decision for the Yankees fans.  All things considered, I wish that he'd simply hang up the catcher's mitt at the end of the season and call it a career but I don't think that's going to happen.  If I have to pick between Posada and Jesus Montero on the roster next year, Montero wins hands down.  Sorry, Jorge, but I am looking forward to your participation on Old Timer's Day.
A quiet major milestone even if it was a booming blast…
Congratulations to Jim Thome for slugging his 600th home run against the Detroit Tigers last night.  It was an interesting stat that he was the first player to hit both his 599th and 600th home runs in the same game, and no one had ever hit his 600th in the next at-bat after 599.  Babe Ruth was the closest, needing two at-bat's.  Thome's march to 600 was one of the quietest milestone marches that I've experienced, and I even call Minneapolis home these days.  I've never thought of him as a superstar, but he has consistently been a home run producer for many years.  In my mind, he was never top shelf talent but he was always in the next tier and his career has spanned longer than many top shelf players.  Does that qualify for entry to the Hall of Fame?  It will be an interesting debate.  He is certainly not a first ballot shoo-in, but he'll probably find his way eventually.
Time to see my guys…
The Yankees will be coming to the Twin Cities this week, so I'll be at one of the games this weekend.  During my short time in Minneapolis, I have come to appreciate Target Field.  I am a fan of many of the newer ballparks, and I like some better than others.  But Target Field has a good feel to it, and I like its downtown location.  I intend to wear my Yankees cap, which might not be the best idea when walking downtown, but I am sure that I won't be alone…
Waiting for the opportunity…
As a lifelong fan of the Minnesota Vikings, it was tough a few years ago when I had to adjust to the sight of longtime enemy Brett Favre in purple.  I actually did enjoy his first year, although the second one was a disappointment.  But it is probably harder for me to accept the sight of Donovan McNabb in purple.  Okay, I wasn't one of those guys who booed when the Philadelphia Eagles selected McNabb in the draft over RB Ricky Williams, but I was never overly impressed with McNabb in his Philly days.  I even lived in the area during his final years with the Eagles, and perhaps my impression of McNabb is tainted by the bitterness that Eagles fans held toward him.  Yes, he won, but he never won the games that truly counted.  It's a team sport so you can't hang total blame on him, but he is just not someone that I've ever been able to embrace as one of the game's best QB's.  Maybe he will change my opinion of him.  I definitely think that he has something to prove after his disastrous year in Washington, and I won't be surprised if he rises to the challenge.
I am a fan of QB Christian Ponder.  There's no doubt that I wanted the team to draft Jake Locker, but it was not meant to be so Ponder is certainly the next best thing.  Intellectually speaking, I think Ponder is at the head of the class and I look forward to seeing how he grasps the Vikings playbook.  But, there's no way that I think he is ready to start this year, particularly with the lockout shortened off-season.  I think that Aaron Rodgers benefited greatly by sitting on the bench for those first few years, and the same holds true with Ponder.  McNabb gives the Vikings the flexibility to allow Ponder to grow into the position…unless McNabb shows that Washington wasn't a fluke.  I am sure that we'll see #7 line up behind center at some point in the regular season, but until then, I'll be content with McNabb.  Well, until he proves otherwise…
There were two Vikings that I really hated to see leave as free agents.  WR Sidney Rice was one of my favorites, and he is now in Seattle with former Vikings QB Tavaris Jackson.  I am not sure that Michael Jenkins or Bernard Berrian can be anything close to what Rice was, but I will say that WR Percy Harvin has been one of my favorite Vikings, if not the favorite.  Now that his migraines appear to be behind him, I am looking forward to seeing if he can take it to the next level.  The guy clearly has the talent and the heart to succeed.  The other loss was LB Ben Leber who signed with the St. Louis Rams.  But with Leber's loss, it does create an opportunity for Erin Henderson to step into his shoes.  I really like what I've seen from Erin, and it is a great story if he starts next to his brother, middle linebacker E.J. Henderson.  But regardless of what the final roster looks like, I feel very confident in the decisions being made by head coach Leslie Frazier.  I don't want to diss former head coach Brad Childress, but this is the most confident that I've felt about a Vikings head coach in a very long time.  I can never recall a time where I was content with the heads of both the Yankees and the Vikings but I am very comfortable with both Joe Girardi and Frazier.  Now, let's see if it equates to a few championships…
–Scott
I don't have a beret to throw in the air…
I am finally living in an American League city once again.  Today is my first day as a resident of the city of Minneapolis, Minnesota.  Somehow, recent years have found me in National League cities, which is tough as an American League fan.  Nevertheless, I persevered and now reside in a city that houses good baseball tradition.  In fact, from my living room window, I can see the lights of Target Field.  Sweet!  Of course, I will never be able to admit that I am a Yankees fan in public given the bad blood between the Yankees and Twins.  I'd probably have better luck wearing a Sox cap…
I am looking forward to learning about my new city, and I am excited about the opportunity and potential the area provides.  Yes, I'll have to get used to winters again, but after living in areas where winter meant a 20 or 30 degree dip in average temps, I am looking forward to true changes of seasons.  Growing up in the Midwest, I never complained about snowfall and it was always one of my favorite enjoyments.  The only issue I have with winter is ice.  Outside of that, I can deal with the cold temps and the white, frosty surroundings.
Oddly, as a lifelong Minnesota Vikings fan, this will be the first time that I've been surrounded by Vikings fans.  Admittedly, that's going to be very strange.  Growing up in southeast Iowa, Vikings fans were mixed among fans of the Bears, Packers, Chiefs, and the then St. Louis football Cardinals with the Bears as perhaps the predominate favorite.  I've seen the Vikings play in person over the years, but they've always been road games.  I never made it to the old Metropolitan Stadium in Bloomington nor have I been to the Metrodome in downtown Minneapolis.  That's obviously going to change, but admittedly, it will be strange seeing everyone around me wearing purple and gold.
I am glad to be in Minnesota, and I am looking forward to a very long stay.  And, no, I am not suddenly going to become a fan of Carl Pavano…
Fundamentals, is it really that hard?…
I was very disappointed to see the Yankees lose a close game to the Tampa Bay Rays last night due to errors.  When you are playing one of your key rivals, anything less than your best is unacceptable.  The Yankees had a chance to bury the Rays and couldn't do it.  While the Boston Red Sox are running away with the AL East, the Yankees need to make sure that they put distance between themselves and the other wild card challengers like the Rays.  Losing a game because you are outplayed is one thing, but to lose a game because of your own incompetence is wrong.  The Rays had encountered a tough stretch of games with the 16 inning loss to the Red Sox, followed by the baseloaded walk loss to the Yankees.  Another loss last night could have started driving a stake in the heart of the Rays.  But the Yankees allowed the Rays to resume their Wild Card drive, and last year those types of games allowed the Rays to best the Yanks in the East.
Mike Carlson/AP
The Rays clearly have the superior pitching rotation, but the Yankees are the offensive club…even with Alex Rodriguez on the DL.  With the series tied after two games with two to play, the Yankees have to ensure that they leave St. Petersburg with no less than a split.
The price of an ace…
The trade rumors involving the Colorado Rockies ace Ubaldo Jimenez are great, but I am hesitant given the high cost that would be involved.  I get that Jimenez is young (27) and has a very affordable contract for the next few years, but giving up Manny Banuelos and Jesus Montero (and others) seems like such a high price to pay.  I like Jimenez and his road splits away from Coors Field are ridiculous, but I simply cannot condone giving away the farm to bring him to the Bronx.  That's tough because who really knows if Banuelos and Montero will be genuine stars.  The cool demeanor of Banuelos seems like a perfect play in Yankee Stadium, and I do really believe that he is destined for greatness.  I also recognize that if CC Sabathia opts out of his contract and signs elsewhere this off-season, the Yankees will be lacking an ace.  Nevertheless, I do not think the Yankees should make the Jimenez trade unless the price is right.  Given the completion for the pitcher, I just don't think that will happen.  The best deal for the Yankees would be one that no one is talking about.  Once the talk goes public, there is too much potential for other teams, like the Red Sox, to muck things up for no other reason than to drive up the price it would cost the Yankees.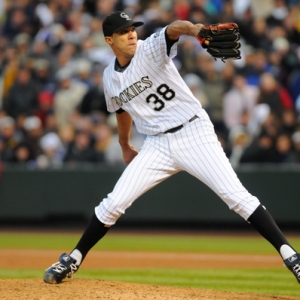 When the Red Sox acquired Josh Beckett from the Florida Marlins, there was not much speculation ahead of the trade.  The Yankees need that same stealth like approach to their next major acquisition.
And the young respond…
I am glad to see some of the guys from the Yankees farm system get their opportunity.  Guys like Brandon Laird, who was called up when Ramiro Pena went on the DL, and pitcher Steve Garrison.  I've really wanted to see what Laird could do in a platoon situation with Eduardo Nunez at third so now is his chance.
Yes, I thank my lucky stars every night for David Robertson…
Charles Wenzelberg/NY Daily News
Mutual respect…
I was listening to MLB Radio this week and I heard a Red Sox fan give kudos to Derek Jeter and Mariano Rivera.  I was glad to hear those types of comments because I hold a similar high respect for certain Red Sox players like Dustin Pedroia and Jon Lester.  It seems so un-Yankee like to respect a Sox player, but Pedey and Lester play the game the way it is supposed to be played.  There's no way that I could ever root against those guys.  If I was a team owner, they would be among the first players that I would want to acquire for my team.
You have to go back to the 1920's?  Really?
The Cleveland Indians and Pittsburgh Pirates in first place?  I can't believe how much media attention that has gotten.  I do not expect either team to be a factor come October, but it's nice to see their fans having reason to cheer this late in the season.   I enjoyed the early 1990's when the Pirates were a factor in the play-offs every year.  After years of trading stars for prospects, it is nice to see the team thriving on those prospects.  But much of the credit has to go to first year manager Clint Hurdle.  Similarly, the Tribe's success has to be attributed to Manny Acta.  Both men know how to get the most out of their guys.  It is very refreshing to see.  Nevertheless, I still do not see anything that's going to derail a Boston Red Sox-Philadelphia Phillies World Series.
Matt Freed/Post-Gazette
Yes, I am finally home…
"…You can have a town, why don't you take it.   You're gonna make it after all."  I finally get what Mary Tyler Moore was saying after all these years…
–Scott