Results tagged ' Mark Reynolds '
A penny for your hits…
What does it take to buy a hit?  Apparently not the $45 million the Yankees paid to Carlos Beltran or the $85 mil to Brian McCann or $175 million for former Sox centerfielder Jacoby Ellsbury.  This season has been a struggle for wins despite the team's winning record.  It was finally starting to feel a little better at 29-25 but then the Yankees promptly lost 4 in a row.
Playing a good team like the Oakland A's, the Yankees bullpen failed miserably until the final game of the series when David Robertson locked away a win for ace Masahiro Tanaka.  That bleeding started in the series with the Minnesota Twins and was inevitable with the short innings being provided by the replacement starters (i.e., David Phelps, Vidal Nuno and Chase Whitley).  When the Yankees are only scoring 1 or 2 runs a game, the starters need to throw a gem almost every outing which obviously is not realistic given the current state of arms.
I thought the Yankees should have aggressively tried to sign Stephen Drew before the Boston Red Sox re-signed him, and now I feel the same way about slugger Kendrys Morales.  Now that there is no longer draft pick compensation tied to him since the MLB started yesterday, I felt the Yankees should go after him.  Maybe they are, but there's competition.  Based on yesterday's first draft pick for the Yankees in the second, had they signed Morales earlier, the cost would have been lefty reliever Jacob Lindgren who is already projected to make an appearance in the Yankees bullpen this year.  But now it's an open field for Morales and the Yankees have reluctance, wanting to see how Mark Teixeira and Carlos Beltran perform.  In my opinion, the odds of one or both going back to the DL at some point is very high, and the designated hitter, Alfonso Soriano, is not hitting, so I would aggressively pursue Morales to cover 1B/DH.  Ironically, Morales is the guy the Los Angeles Angels turned to when Mark Teixeira left as a free agent.  It worked out well for the Angels and I think it can work out well for the Yankees.  No ifs, ands, or buts, the Yankees need a proven consistent run producer in the middle of the order.  I agree with those who say the Yankees sorely miss Robinson Cano's bat.  Ironically, the Yankees were also unable to re-sign another slugger having a good year in Milwaukee this year (Mark Reynolds) despite the usual anemic batting average.  Those home runs would look pretty good about now in Yankee Stadium.
 Courtesy:  hailstate.com
On nights the Yankees are scoring only a run or getting shut out, I even see guys like Milwaukee's Lyle Overbay, another 2013 Yankee, driving in a couple of runs for his new team.  And of course, who delivered the key hit in the Yankees last game with the Twins when the Yankees bullpen collapsed in the late innings?  None other than former backup shortstop Eduardo Nunez.
At this point, the Toronto Blue Jays are starting to run away with the division.  They are clearly playing like the class of the division and they just came off a very successful series against perennial AL contender Detroit.  If I had to pick two teams playing in the ALCS right now, I'd pick the Blue Jays and the Oakland A's.  If the Yankees do not figure out how to fix the current offensive drought, they really will be offensive and done for the season in September.
Not everybody was meant to be Mariano Rivera…
Nothing against David Robertson but I am still not sold on him as the team's closer.  Sure, replacing Mariano Rivera is big shoes to fill.  However, I still think that Robertson's stuff plays best in a Set Up role.  I have been intrigued with the possibility of trying Dellin Betances in the role, but he needs more major league experience so maybe next year.  The reliever the Yankees picked yesterday (Jacob Lindgren) is also a future possibility.  If Robertson blows a few more games like he did against Minnesota, I'd really consider using Andrew Bailey in the role when he gets healthy…for now.
I love you, I love you not…
Speaking of former Yankees thriving outside of New York, both Phil Hughes and Joba Chamberlain seem to be doing fine.  Hughes even captured a victory in the Bronx with the aforementioned bullpen collapse, a place that he couldn't buy a win last year.  Chamberlain has a couple of saves and a decent ERA.  I can't say that I've watched him too closely but his stats seem to say that all is good.  Why couldn't have these guys performed like this last year?  Rhetorical question and of course, there is something to be said about the pressure of playing in New York.  It's not for everyone.
Farewell to a champion…
It was sound to hear about the passing of former Yankees bench coach Don Zimmer this week.  The image of Zim sitting next to Joe Torre on the Yankees bench is forever burned into my memory.  He was such a part of those late 90's championships and he helped mold Torre into a Hall of Fame manager and one who will soon have his number retired in Memorial Park.  I realize that sooner or later, all of us must depart.  But still, it is sad to see Zim go now.  I understand he had been in poor health since April and hopefully he is now at peace.  He will be missed as he was truly one of Major League Baseball's landmarks.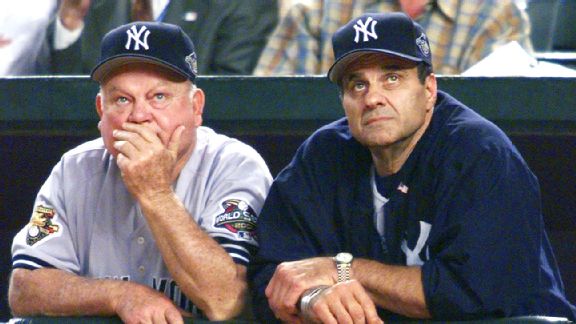 Courtesy:  Keith Torrie/New York Daily News Archive/Getty Images
–Scott
Posted on June 6, 2014 at 8:00 pm

Filed in:

Dailies, MLB, New York Yankees, Uncategorized, Yankees
Tags: A's, Alfonso Soriano, Andrew Bailey, Blue Jays, Boston, Brian McCann, Carlos Beltran, Chase Whitley, David Phelps, David Robertson, Dellin Betances, Detroit, Don Zimmer, Eduardo Nunez, Jacob Lindgren, Jacoby Ellsbury, Joba Chamberlain, Joe Torre, Kendrys Morales, Lyle Overbay, Mariano Rivera, Mark Reynolds, Mark Teixeira, Masahiro Tanaka, Minnesota, New York, Oakland, Phil Hughes, Red Sox, Robinson Cano, Stephen Drew, Tigers, Toronto, Twins, Vidal Nuno, Yankees
Realism is starting to set in…
I know, never give up until the last pitch is thrown.  But seriously, even though the Yankees are within striking distance of the Wild Card, they are virtually out for any chance at a division championship barring complete collapses by the Boston Red Sox and Tampa Bay Rays.  This does not "feel" like a team of destiny that can right the ship and nail down one of the Wild Card slots.  All season long, it has been a team pieced together from players found at Nordy's Rack.
In spurts, some of these players have excelled but for sustainability, most have faltered.  Vernon Wells, Travis Hafner, Lyle Overbay et al.  The latest to join the circus of cast-off's is former Arizona Diamondback and most recently Cleveland Indian Mark Reynolds.  High in strikeouts and almost futile in home runs since June, the Yankees decided to take yet another chance to try and catch lightening in a bottle.  Their strategy to re-acquire former Yankees second baseman and now outfielder Alfonso Soriano was good as Sori plays like he's glad to be back in the Bronx.  This was on display earlier in the week when he hit four home runs with thirteen RBI's in just two games.  On successive nights, he set personal career highs.  But Sori is a feel-good story because he is a former star Yankee player whose Yankee career was cut short by the now foolish acquisition of Alex Rodriguez.  He is getting a second chance in pinstripes and enjoying every moment of it.  But unfortunately, it will not be enough to propel the Yanks to the play-offs.
Today, Phil Hughes once again proved why he's soon to be a former pinstriper.  It's too bad that the Yankees didn't move him before the trading deadline to get something for him, but he'll most likely move to a park conducive for pitchers and will finally show some resemblance of the potential that has eluded him in the Bronx.
On the bright side, the Yankees should most likely be without Alex Rodriguez and his hefty salary next season so hopefully Team Frugal (Hal Steinbrenner) will open the purse strings a bit to replace some of the lost and aged talent.
On their current path, the Yankees should have their highest placement in next spring's draft which should hopefully add some quality talent to the largely disappointing farm system.  I wonder if we are entering a 1980's like phase of a few down years before young talent brings a resurgence in the Bronx.  I hope not, but at face value, that appears to be the case.  No offense to Derek Jeter, but in 2014 and at his age, I am not so sure that he is a positive.  It's been a great career, but he is finding out what I found out a few years ago.  With age comes greater susceptibility to injury and a slower recovery cycle.  I guess we're not 21 anymore.
Hiroki Kuroda has been one of the few very bright spots in this, thus far, disappointing season.  But it's no sure thing that he'll be back next year.  At some point, he will return to Japan to finish his professional career.  With the struggles of CC Sabathia, the Yankees can thank Kuroda for not having a stranglehold on last place at the moment.
I would love to see the Yankees catch fire and propel themselves into the play-offs.  However, there is no cavalry on the horizon.  We have to dance with the one who brung us, borrowing a cliché.  Unfortunately, she's not pretty and she's not a very good dancer…
–Scott