Results tagged ' Josh Beckett '
It was a masterpiece by A.J. Burnett…
Frank Franklin II/AP
Unfortunately, it was an equal masterpiece by Boston's Josh Beckett, as the Yankees and Red Sox ended regulation play deadlocked at 0-0.
Bill Kostroun/AP
A.J. went 7 2/3 innings and gave up only one hit. He had 6 strikeouts, but also had 6 walks. I guess he was watching Joba Chamberlain too closely last night. Nevertheless, he did what he was paid to do. He put his team in position to win, so there's not more that you can ask.
Beckett went 7 innings, and gave up 4 hits and 2 walks, with 7 strikeouts.
But it became a game where neither team seemed to want to win. Both teams left double-digit runners on base (Red Sox 10, Yankees 12). As the game advanced into extra innings, neither team seriously threatened. The Yankees would get a few runners, but then they'd be left stranded.
The Red Sox, meanwhile, had some difficulty getting base runners but when they did, they failed to advance them like the Yankees.
The game seemed to drag on for hours (5 hours, 33 minutes to be exact). My favorite comment of the night was by Peter Abraham of the LoHud Yankees Blog:
UPDATE, 12:06 p.m.: This just in: Bill Clinton flying to the Bronx to negotiate the release of 48,262 people held hostage by this game.
Finally, in the bottom of the 15th inning, Derek Jeter singled to start the inning. After Johnny Damon popped out on the foul side of first base and Mark Teixeira struck out, Alex Rodriguez came to the plate. Much as been talked about A-Rod's homerless streak, but with one swing of the bat, the streak, like the Yankees losing streak to the Sox a day earlier, became a distant memory. A two-run homer to left gave the Yankees a walk-off win. Yes, Julia, I was right about the walk-off…I just had the wrong inning!
Bill Kostroun/AP
So, the Yankees have guaranteed that they will not lose this series. So, it is now a question whether the Red Sox can win the final two games of the series to invoke the tie-breakers. The Sox are certainly a capable team, but right now, this minute, I'd say 'Advantage Scott!'.
John Munson/The Star Ledger
Here are the revised totals of the series so far:
RUNNING TOTALS (8/06 – 8/09) FOR TIE-BREAKER:
Runs
Red Sox 6
Yankees 15
Home Runs
Red Sox 2
Yankees 5
Wins
Red Sox 0
Yankees 2
Winner: T.B.D.
The Yankees, at 66-42, now lead the American League East by 4 ½ games over the Red Sox and 6 games over the Tampa Bay Rays.
Life is good for a Yankees fan…
Boston.com (Yankees fan Steve Macary)
A Very Busy Day…
It was a blood bath today in Major League Baseball. A friend indicated that it felt like the Trading Deadline, but I'd have to say that I was quite surprised by the moves that were made. Granted, it didn't take a rocket scientist to know that John Smoltz's time in the Red Sox starting rotation was nearing its end. However, I did not expect that he'd be DFA'd. I really thought that he would move into a long relief role, or perhaps help set up Jonathan Papelbon. If this is truly it for Smoltz, I am saddened that his final appearance was a loss to the Yankees. Well, the Yankees victory was nice, don't get me wrong, but for Smoltz the man, he deserved better. I always thought that he'd be the one to know when to exit the game. Maybe he gets another chance, but then again, maybe not. Either way, he is a class guy and I am honored that I had the privilege to watch him play.
Paul Bereswill/Getty Images
Boston also DFA'd pitcher Billy Traber, a former Yankee or Oriole, who relieved Smoltz in yesterday's game and, in Julia's words, took a bullet for the team to save the bullpen. Of course, his thanks was a one-way ticket out of a Red Sox uniform.
Wikimedia Commons/UTC
Another cut that caught me by surprise was the release of Jason Giambi by the Oakland A's. I had bought tickets for the Yankees visit to Oakland to play the A's later this month, and I had been hopeful that Giambi would be off the DL and in the game. But unfortunately, it was not meant to be. Oakland released Giambi from the DL, due primarily to his .193 batting average. I didn't expect the A's to pick up Giambi's option this fall, but I never expected he'd be cut before the season was over. He's not a fit for the current Yankees roster, so coming back to New York will not be in the cards. But hopefully, he'll catch on somewhere so that he can go out his way.
Ronald Martinez/Getty Images
Bill Kostroun/AP
The American Idle, a/k/a Carl Pavano, was traded by the Cleveland Indians to the Minnesota Twins. I guess it was an admission by the Twins that they aren't really interested in making the play-offs since they just acquired a guy who thrives in losing environments. From Cleveland's perspective, the deal makes sense since it opens a slot in the rotation for Justin Masterson who was recently acquired from Boston in the Victor Martinez trade.
AP
The Toronto Blue Jays attempted to push RF Alex Rios through waivers, but he was claimed by another team. They now have to decide whether they'll trade Rios to the other team if they can work out a trade or perhaps they just hang on to him. It's unlikely that they'd simply let Rios go to the other team for nothing.
Pitcher Vicente Padilla was also DFA'd by the Texas Rangers. Ah, I feel so bad for the headhunter. Um, not really…
On the bright side, the Yankees didn't acquire another pitcher with a losing record and a plus 5.00 ERA to go with Chad Gaudin and Russ Ortiz so the day wasn't a total loss…
He Didn't Mean To Do It…
Mark Melancon insists that he did not intentionally hit Boston's Dustin Pedroia in Thursday's game. Personally, I liked Manager Joe Girardi's explanation. "Some pitchers are much more capable of throwing the ball exactly where they want to on a consistent basis. Those guys are called Hall of Famers."
I do believe that it was unintentional. Melancon is trying hard to earn a roster spot, and it would be foolish for him to risk his opportunity by purposely allowing a Boston base runner in a critical game regardless of the circumstances.
Kathy Willens/AP
Finally…
Hey Julia, don't look now but here comes Carsten Charles Sabathia… J
Nick Laham/Getty Images
Posted on August 8, 2009 at 1:24 am

Filed in:

Dailies
You win some, you lose some…
cache.daylife.com
Okay, so maybe I was expecting an early April ten-game winning streak. Hey, a guy can dream right?
It's nice to see the team do well despite the absence of Alex Rodriguez. I'd hate for him to come back and be the "savior". Of course, as long as Joe Girardi keeps penciling in Cody Ransom's name at third, anyone except Cody would look like a savior…
Jay Grabiec/The Daily Eastern News
Joba Chamberlain pitched well enough to win. He went six innings, and gave up four hits. He allowed three runs, but only one was earned. He struck out five. The Yankees had a 4-3 lead in the 8th inning, but the Royals scored three runs against relievers Jose Veras and Phil Coke.
Nick Swisher started again at first base in place of Mark Teixeira, who has missed two games with tendonitis in his left wrist. Teixeira says that he can field without any problems, and bat lefthanded. The wrist only hurts when he tries to bat righthanded. With lefty Scott Kazmir on the mound Monday in Tampa, Teixeira will again take a seat on the bench. But Joe Girardi hopes that he will be available to pinch hit if necessary.
Monday will be a tough matchup for the Yanks. Kazmir is pitching great right now, and Chien-Ming Wang has continued to struggle. The Yanks hope is to keep it close until they can wear down Kazmir and get to the Tampa bullpen. Of course, that's still not an easy task, so I am not too confident about Monday's game. If Wang doesn't bring his "A" game, I can see disastrous results when he faces Rays third baseman Evan Longoria.
I know that Canuck will be anxiously awaiting the conclusion of the game so that she can post another 'That's my Scotty!' post regarding her favorite Rays pitcher. I hope that the Yanks can delay that post by five days…
Congratulations, Scott!!!
I hope Tuesday morning, Canuck is talking about me, and not Kazmir!
On the bright side, the Boston Red Sox lost so the day wasn't a complete disaster!
JULIA'S BOYS ARE FIGHTING AGAIN
In the first inning of Sunday's game between the Boston Red Sox and Los Angeles Angeles, Bobby Abreu took issue with a pitch that sailed high above his head as time was being called by the plate umpire. The benches cleared, but no punches were thrown. Then, Josh Beckett had some heated words for Angels manager Mike Scioscia, and the benches cleared again which led to some pushing and shoving. Four Angels were ejected from the game (Manager Mike Scioscia, centerfielder Torii Hunter, reliever Justin Speier, and hitting coach Mickey Hatcher).
AP
At first glance, it would appear to me that Bobby Abreu overreacted to Beckett's pitch. I don't know what words were exchanged, but it did appear to me that Beckett was only reacting to words said to him by the Angels.
Of course, this is just an average fighting-kind of week for Julia. Her "weakness", i.e., Toby Keith was involved in a tiff with actor Ethan Hawke earlier in the week…
http://www.comcast.net/ve/1.0/1084909013/555/457/
AP via Comcast.net
Does she really think that I am going to wear a pink hat? Them's fightin' words!
WHAT WAS SHE THINKING?
Okay, this is a little off topic. My apologies. But what was the 32-year-old woman at the Berlin Zoo thinking when she jumped into the Polar Bear Pen, and proceeded to get mauled by the bears before she was rescued. It was definitely one of the most bizarre things I've seen. Well, next to why someone would be a Red Sox fan! 😉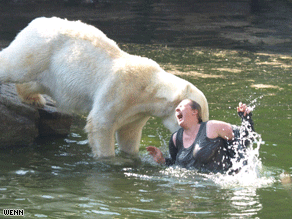 * * *
I hope everyone had a very enjoyable Easter with friends and family! Have a great week!
–Scott
Posted on April 12, 2009 at 8:58 pm

Filed in:

Dailies
Tags: Bobby Abreu, Joba Chamberlain, Jose Veras, Josh Beckett, Phil Coke, Rays, Red Sox, Royals, Scott Kazmir, Yankees