Results tagged ' Jeff Francis '
The morning started with word that the Yankees were nearing a deal with outfielder Andruw Jones, but there have been no further updates. I am sure the Yankees are actively working on their arbitration eligible players like Phil Hughes so that's probably a bit of a distraction. Nevertheless, I like the idea of signing Jones as the Yankees fourth outfielder. He is not the player he once was, but the last two years he has averaged 280 at-bats and 18 home runs. Not bad for a bench/role player…
AP/Jeff Chiu
With Marcus Thames apparently on the verge of signing with the Los Angeles Dodgers, I think Jones is a better version of Thames…well, at least one that can play the field. I've wanted the Yankees to sign Jones the last two years but he signed with Texas in 2009 and the White Sox in 2010. Perhaps the time is now for Jones to finally land in the Bronx.
AP
I liked the Washington Nationals move to acquire Chicago Cubs starter Tom Gorzelanny today. They paid a potentially hefty price, but Gorzelanny is a solid addition to the Washington rotation. Only 28, he is the type of pitcher that I'd like to see the Yankees pursue for the hole(s) in their rotation. I am not saying the Yankees should have pursue Gorzelanny, but I like the idea of pursuing a late 20′s pitcher that has not reached his potential. I know, it's chasing lightning in a bottle, but it would be great to accurately catch a pitcher on the verge on his breakout season.
I was disappointed to see Jeff Francis sign with the Kansas City Royals but I can certainly understand his logic of pursuing an opportunity that should guarantee a spot in the rotation while playing with less pressure than say New York or Boston. He has a chance to restore the promise he showed a few years ago with Colorado.
When I think about who the Yankees should acquire, all roads keep leading back to Cleveland starter Fausto Carmona. With CC Sabathia as Carmona's mentor once again, I like the possibility and the promise that Carmona could bring to the rotation. It's certainly a better prospect than Sergio Mitre. Ivan Nova is going to be a question mark going into the season. The Yankees don't need two question marks…
Chuck Crow/The Plain Dealer
I am prepared to see reliever Joba Chamberlain go in a trade for a starting pitcher. The Yankees have a few pitching hopefuls that could potentially fill Joba's role in the bullpen now that the Yankees have signed closing/setup specialist Rafael Soriano. I know that he still has the chance to experience great success in the big leagues but I am starting to realize that he probably won't be able to realize that potential in the Bronx. More than likely, the Yankees would have to part with one of their catching prospects in any trade. At this point, I am most fearful about losing Gary Sanchez even though he is not as advanced as Jesus Montero or Austin Romine. Sanchez has the chance to be the best of the group. There's no doubt that Montero will be a great hitter, but questions remain about his defense. Sanchez may not be the hitter that Montero is, but he appears to be a more complete player.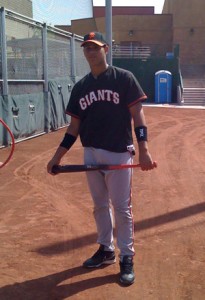 Somehow, I think manager Joe Girardi is going to have a very fun time trying to decide what pitcher to bring in from the bullpen. He's going to have some options for almost any situation. It sure beats the days of Jose Veras or Kyle Farnsworth.
To go a bit off topic, I was glad/relieved to see the retirement of QB Brett Favre today. Hopefully, and finally, he'll stay retired. He should start looking into life-after-football opportunities. If he decides to come back to play again, I definitely hope that his days in purple are over. I don't know who will be the 2011 Quarterback of the Minnesota Vikings, but at this point, I'd take Joe Webb over Favre any day. I don't want to see someone like Donovan McNabb come to Minnesota but hopefully the Vikings can find a solid QB option to allow Webb (and perhaps another young QB like Cam Newton) to grow and develop.
TSN.ca
Note to the St. Louis Cardinals: Please do whatever takes to make Albert Pujols a lifetime Cardinal!
AP
Note to the Chicago Cubs: I know you're quietly building a play-off contending club, but I see what you're doing! Let the Cincinnati Reds and the Milwaukee Brewers get all the pre-season championship accolades. The Cubs are shaping up as a clear surprise player for 2011. GM Jim Hendry has to be congratulated for the moves that he's made this off-season.
AP/David Kohl
–Scott
Posted on January 17, 2011 at 10:45 pm

Filed in:

Dailies
Rumors…
With nothing to talk about, the speculation continues
about what free agents the Yankees are looking at. The latest has pitcher Justin Duchscherer and
outfielder Andruw Jones within the team's sights…
Tony Gutierrez/AP
UPI/David Richard via Newscom
I like Duchscherer, although he has been beset with
injuries and depression in recent years.
I recognize that he is considered an "average" pitcher, but he does know
how to win. He'll never be the second
coming of Chris Carpenter, but when the alternative at the 5th spot
in the rotation is Sergio Mitre, he'd be worth the shot. I have quietly been hoping the Yankees would
sign former Rockies pitcher Jeff Francis but there has been no activity on that
front. It wasn't that long ago
(pre-Ubaldo Jimenez) that Francis was considered the ace of the Rockies
staff. If the signing of Francis is not
meant to be, then I like Duchscherer over other options like Jeremy
Bonderman. I like the addition of either
Francis or Duchscherer even if somehow and magically Andy Pettitte decides to
return for one last season.
The other rumor has the Yankees considering outfielder
Andruw Jones. I actually wanted the
Yankees to sign Jones last off-season.
He ended up with the Chicago White Sox and hit 19 home runs. I realize that he will never be the Atlanta
Braves' version of Jones, but in the right role, he can excel. I lived in the Los Angeles during his final
year with the Dodgers and it was pathetic to see Jones as a shell of what he
used to be. Still, I think he'd be a
good fit as a role player for the Yankees.
Jones could also step into left if either Brett Gardner or Curtis
Granderson missed any time due to injury.

What can Larry Rothschild do to restore Joba Chamberlain's
confidence? With A.J. Burnett and Joba
at the top of his to-do list, I wonder if Larry fully understood what he was
getting himself into. If he can somehow
turn both of these guys around, he will be a legend in Yankees history.
David Zalubowski/AP
Speaking of Rothschild, the Yankees announced their 2011
coaching staff and the only change was Larry in for former pitching coach Dave
Eiland. All things considered (and
nothing against Eiland), but I feel very good about the pitching being in the
hands of the long-time Cubs pitching coach.
It's also good to know that Tony Pena will return to his role as bench
coach for manager Joe Girardi. I think
that's a good pairing, even if Pena will have to coach against his son, Tony
Pena Jr., who is currently a member of the dreaded Boston Red Sox.
There has been so much talk lately about the impending
free agency of St. Louis Cardinals first baseman Albert Pujols. Personally, I do not want to see Albert in
anything other than a Cardinals uniform.
Hopefully, the first ballot to be Hall of Famer and the Cardinals can
find a way to ensure that Albert stays in St. Louis for the duration of his
career.
Scott Rovak/Getty Images
There are going to be some really great pitching
performances in the National League this season. Granted, the class of the rotations is the
Philadelphia Phillies, but so many teams have improved (like the Brewers, Cubs,
and Marlins to name a few). Plus, let's
not forget the solid starting five of the World Champion San Francisco
Giants. Give me the #5 starter, Madison
Bumgarner, for the Yankees rotation…please!

I have to admit that I was pleased to see future Hall of
Fame closer Trevor Hoffman retire today.
It fixes his save total at 601, and certainly makes it within reach for
also future Hall of Fame closer Mariano Rivera.
With a two year contract and standing at 559 saves, there's no reason in
the foreseeable future that Mo can't erase the difference. I think both Trevor and Mo should be first
ballot elections, although I'd admit that Lee Smith should go in before either
one. With Mo, I have definitely been
grateful in recent years that I've been able to watch one of the all-time great
New York Yankees. It's a lengthy list
but Mo will exit at the head of the class for his position. I am envious of anyone who actually saw my
idol, Lou Gehrig, play, but I'd also say that I've been very fortunate to see
Mo pitch. It's nice to know that when
#42 is retired at Yankee Stadium for Jackie Robinson, it will be shared by
Mo. Nevertheless, I wish the very best
for Trevor Hoffman, who I hear is headed back to the San Diego Padres for their
front office.
AP
Finally, I wanted to say how much I miss former Yankees
beat writer/blogger, Peter Abraham. I
keep up with him with Boston.com, and his latest post shows why he is simply
one of the best…if not the best.
Okay, one more thing.
The loss of Dallas Green's 9-year-old granddaughter, Christina Taylor
green, to the shooting in Arizona is devastating. I can't help but think of the great things
that she could have and most likely would have accomplished in her
lifetime. It was a senseless tragedy and
we are clearly the worse for it.
Somehow, the world is a lesser place today because of her loss. I am also saddened for the others that lost
their lives, and I wish for a full and speedy recovery by Rep. Gabrielle
Giffords. The restoration of her life
and career is so important to the balance of life…
-Scott
Posted on January 11, 2011 at 10:12 pm

Filed in:

Dailies