Results tagged ' Jays '
Team Question Mark…
It's March 22nd and I am still waiting for that deal that instills confidence for the 2013 New York Yankees, but so far, it's been like an unsuccessful Vegas weekend.  I want to throw out the surgery recovery for Alex Rodriguez because I remain happy that he is not in the lineup regardless of the cost.  Addition by subtraction.  Sorry, I am just not a fan of the narcissistic one.  Even with the injury risk, I prefer to see Kevin Youkilis man third base for the Yanks.  But throwing that aside, the Yankees have lost Curtis Granderson and Mark Teixeira to injury.  While both are expected to be back in May, there have been numerous professional reports that Teixeira could be lost for the year.  The Yankees lost their backup first baseman when right fielder Nick Swisher signed with the Cleveland Indians.
The catching battle is between two perennial backup catchers.  I fully expect Francisco Cervelli to win the job, but I do not have full faith and confidence in his ability as a starter.  I am sure that Chris Stewart will see plenty of time behind the plate this year.  I had quietly hoped that Austin Romine would surprise in training camp and claim the job, but now that he's back in the minors, his arrival won't come until later in the year and perhaps even next year.  Meanwhile, I am hoping that top catching prospect Gary Sanchez can start to accelerate his development to hasten his arrival in the Bronx.
Despite Derek Jeter's optimistic outlook, it's unlikely that he'll be ready on Opening Day so the Yanks will most likely open against the Boston Red Sox with Eduardo Nunez at short.
I am assuming that Ichiro Suzuki will be shifted to left to temporarily replace Granderson, so right field will most likely be a committee led by recent signee Brennan Boesch.  I am hopeful the team also finds room for Ben Francisco, but neither bat will rival the production the Yanks received from Swisher.
Brett Gardner is coming off an injury-lost season so it's not 100% that he'll be the Gardy of old.  So, the only "sure thing" in the Yankees lineup right now is second baseman Robinson Cano.  Given his recent health history, I would certainly not label DH Travis Hafner as a sure thing.  If the Yankees lost Cano, this season would be lost.  As it stands, I still expect a late March trade to bring in a capable first baseman.  Gaby Sanchez of the Pittsburgh Pirates is the name that comes to mind.  There's no way that it will be a frontline first bagger, not under the regime of Hal the accountant.
The Yankees are the oldest team in baseball and rarely has the oldest team succeeded.  This will be a tough year.  Yes, the Yankees will compete for a play-off spot but I do not see them repeating as AL East Champions.  I know that Red Sox fans have been salivating all off-season (along with Rays and Jays fans).
At least I learned what a lisfranc injury is…
While I was pleased to hear the Yankees have re-signed former ace starter Chien-Ming Wang, he's a bigger question mark than any of the current players on the team.  The foot injury suffered against the Houston Astros years ago led to Wang's subsequent departure for the Washington Nationals, and he really only enjoyed one reasonably healthy season while away.  I seriously doubt that he'll ever be the 19 game winner that he was a few years ago.  He does give the Yankees some insurance to trade someone like David Phelps or Ivan Nova for a quality bat.
If you can't stand the heat, get out of the kitchen…
I have been a Yankees fan for a number of years but this is clearly one of the most fragile times that I've experienced in recent memory.  The Yankees are only an injury or two away from disaster.  Sure, some players could step up and have career years but the range of potential success to non-success have never been wider.  The pressure on Joe Girardi and Brian Cashman will be as high as it has ever been.  It's unfortunate that they are the front mean for Team Hal.  I am not quite sure why the Yankees suddenly feel that they can be the AL version of the St Louis Cardinals.  My favorite teams, in order, are the Yankees and the Los Angeles Dodgers.  The pressure on Girardi and Dodgers manager Don Mattingly are higher than any other manager in baseball.  Not that I am against a scenario that could ultimately bring Donnie Baseball to the Bronx as manager, but still, both men deserve better than the hands they have been dealt.
–Scott
Posted on March 22, 2013 at 10:03 pm

Filed in:

Dailies, New York Yankees, Uncategorized, Yankees
Tags: Alex Rodriguez, Ben Francisco, Boston, Brennan Boesch, Brett Gardner, Brian Cashman, Cardinals, Chien-Ming Wang, Chris Stewart, Cleveland, Curtis Granderson, David Phelps, Derek Jeter, Dodgers, Don Mattingly, Eduardo Nunez, Francisco Cervelli, Gaby Sanchez, Hal Steinbrenner, Ichiro Suzuki, Indians, Ivan Nova, Jays, Joe Girardi, Kevin Youkilis, Los Angeles, Mark Teixeira, New York, Nick Swisher, Pirates, Pittsburgh, Rays, Red Sox, Robinson Cano, St. Louis, Yankees
So, where do we go from here?…
The Yankees have definitely been stopping and
starting lately. They go into a funk,
rebound, and then go into a funk again.
After a succession of losing or tying series, they've started to win a
few but it has been easy. In the most
recent series with Seattle Mariners, they were dominated in the opening game by
Felix Hernandez, as the M's won, 6-0.
They rebounded to take the next two including a 10-0 annihilation on
Sunday that feature a grand slam and 6 RBI's by Robinson Cano.
As Sunday's game got underway, Yankees radio
announcer John Sterling made a comment about whether Cano could reach 100 RBI's
(he had 80 at the start of the game).
With simple math, he deducted that Cano had been averaging about 20 RBI's
a month so with that reasoning, it would appear that Cano would have a shot
after nearly making the milestone in 2008 with 97 RBI's. Cano must have heard Sterling because he
promptly went out and reduced the "magic number" to 14 RBI's with a little more
than a month to go in the season.
Then Monday, the Yanks were back in the doldrums
when Jose Bautista hit home runs 39 and 40 as the Toronto Blue Jays downed the
Yanks 3-2. The Red Sox own the Jays, but
the Yanks and Rays struggle against them for whatever reason. With Dustin Moseley on the mound for Tuesday's
game, there's not much optimism unless the Yankee bats can come around.
Of course, it doesn't help with names like Eduardo
Nunez, Ramiro Pena and Francisco Cervelli among the starters and Ivan Nova on
the mound. To Nova's credit, despite
allowing one of the Bautista homers, he pitched very well, going 5 1/3 innings
and allowing only 2 runs (courtesy of the Bautista home run) despite 6 hits and
1 walk. He struck out 3. Nova showed that although he is not a talent
like the Rays' Jeremy Hellickson, he can pitch at this level.
Gunn/AP
It was sad to see former Yankees and current
Chicago Cubs manager Lou Piniella step aside after Sunday's game, a rout by the
Atlanta Braves. Lou opted to depart now
rather than at the end of the season to tend to his ailing mother. At 66, Sweet Lou is most likely done as a
manager, but given his intensity and desire for the game, I'd have to put this
one in the "we'll see" category. It
would not surprise me to see him return to the dugout at some future date. As for now, it would be good for the
Steinbrenner family to reach out to Lou for a consulting role. It would be nice to have him back in the
organization.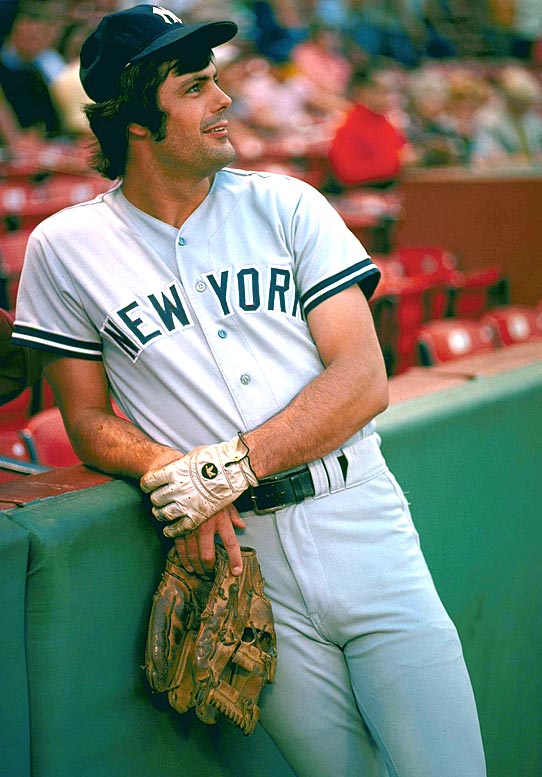 As the speculation grows for the next Cubs manager,
which inevitably includes current Yankees manager Joe Girardi, I can't help but
wonder if the Yanks would reach out to icon Don Mattingly or if they'd go for a
seasoned vet like Bobby Valentine if Girardi left. I'd prefer to see Donnie Baseball don the #23
pinstriped jersey if I had my preference.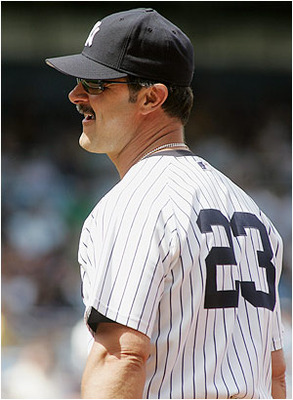 With the Yankees most likely in a first-place tie
after tonight's game (assuming the Rays hold their lead against the Los Angeles
Angels), it's time to kick it into gear.
Now is the time that separates the men from the boys so hopefully the
Yanks are up to the challenge. If not,
they'll be looking at the backside of Tampa and Boston jerseys.
–Scott