Results tagged ' Cavaliers '
The view from the top is excellent!
The Yankees beat the Cleveland Indians, 10-5, on Saturday to extend their AL East to 1 ½ games over the Boston Red Sox and Toronto Blue Jays (the Red Sox lost to the Jays, 5-3).
As of 5/30/09…
| | | | | | | | | |
| --- | --- | --- | --- | --- | --- | --- | --- | --- |
| AL East | W | L | Pct | GB | Home | Road | Last 10 | Streak |
| Yankees | 29 | 20 | .592 | — | 14-9 | 15-11 | 7-3 | Won 3 |
| Red Sox | 28 | 22 | .560 | 1.5 | 17-6 | 11-16 | 4-6 | Lost 2 |
| Blue Jays | 29 | 23 | .558 | 1.5 | 18-6 | 11-17 | 2-8 | Won 2 |
| Rays | 25 | 27 | .481 | 5.5 | 13-10 | 12-17 | 5-5 | Won 2 |
| Orioles | 23 | 27 | .460 | 6.5 | 16-12 | 7-15 | 7-3 | Lost 1 |
The Yankees have played much better since I saw them personally in Baltimore, so maybe I am responsible for the turnaround! Okay, that's probably not it. The Yankees have been a different team since Alex Rodriguez returned to the team. Mark Teixeira started to hit like fans in Texas, Atlanta, and Anaheim had become accustomed to, and the pitching has been great. The defense, which has been a liability in recent years, has been excellent. Saturday's game was the Yankees' 16th consecutive game without an error. If they avoid any errors on Sunday, they'll match the major league mark set by the Boston Red Sox in 2006.
Against the Indians, CC Sabathia breezed through the first few innings, not allowing a hit until the 5th inning. The Indians scored two runs in the 5th, thanks to a few hits and RBI singles, but the Yankees had built up a 7-2 lead by that time.
Dejak/AP
Jorge Posada and Nick Swisher hit solo home runs in the second inning. The Yanks added five runs in the 4th inning, primarily on two-run singles by Derek Jeter and Robinson Cano. Johnny Damon also had a run scoring single in the inning. In the 6th, Damon picked up another RBI on a groundout to first which brought home Brett Gardner.
AP
Sabathia gave up a home run to Grady Sizemore in the 6th, but you knew that Grady would be heard from sooner or later in this series (even with his sore elbow). The guy is definitely a warrior…
Chuck Crow/The Plain Dealer
The Yankees scored a couple of runs in the 9th on a run-scoring single by Cano, and a double by Hideki Matsui that scored Cano.
David Robertson pitched a perfect 8th inning, facing just three batters. However, Jose Veras came out for the 9th and showed that he is, well, Jose Veras. Despite the 10-3 lead, Veras gave up a homer to the first batter he faced (Shin-Soo Choo). He hit the next batter, Mark DeRosa, to put a man on base. DeRosa moved to second on a groundout, and then scored on Ben Francisco's double. All of sudden, I started to get flashbacks of the Indians' 7-run 9th inning to defeat the Tampa Bay Rays 11-10 on May 25th. Fortunately, Veras retired the next two batters to end the game. Joe Girardi showed much more faith in Veras than I ever would have, but the end result was a Yankees win and adding a game to the AL East lead so all is good…
After the game, Indian manager Eric Wedge, when asked about Sabathia, responded, "He was very good tonight. Better than he was when we saw him in New York [April 16th]". Hey Julia, that applies to the entire Yankees team! See you on June 9th! The Red Sox may be a team built for Fenway Park, but the Yankees now boast the best road record in the American League.
Derek Jeter now has 1,497 runs scored for his career. There are only three active major players with 1,500 runs (Alex Rodriguez, Gary Sheffield, and Ken Griffey, Jr.). With three more runs, he'll join a very exclusive club of players who scored 1,500 runs as Yankees (Babe Ruth, Lou Gehrig, and Mickey Mantle).
MPI/Getty Images
I was surprised to see Jorge Posada catch on Saturday, given he had played on Friday night. I expected to see Francisco Cervelli play, with Posada perhaps at DH. Nevertheless, it sounds like Posada will take a seat in Sunday's game when Phil Hughes faces the American Idle…
Nope, not that guy! This one…
The Plain Dealer
Pavano has pitched fairly well for the Indians, and has already appeared in 10 games for them (as opposed to 26 in four years with the Yankees). He has won five of his six starts this month, and has defeated AL East heavyweights Boston and Tampa. Let's hope his May ends on a down note…
It was a tough night for Cleveland as the Cavaliers were easily eliminated in the NBA Eastern Conference Finals in Orlando by the Magic. King LeBron will have to wait at least another year for a trip to the finals.
Tracy Boulian/The Plain Dealer
And what's up with those mosquitoes and midges in Cleveland?…
Posted by pvictory on cleveland.com
Posted on May 31, 2009 at 10:18 am

Filed in:

Dailies
All good things must come to an end…
Photo: Nelly Furtado, from VH1 video "All Good Things Come To An End"
The Yankees' 9-game winning streak was brought to an end by the World Champion Philadelphia Phillies at Yankee Stadium last night, as (surprise) the Phillies rode four home runs to a 7-3 victory.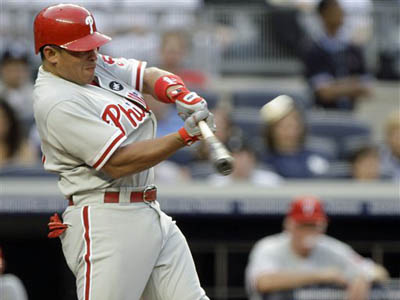 AP
When Jimmy Rollins homered off A.J. Burnett to lead off the game, I knew it was probably going to be a tough night. The next two batters, Chase Utley and Raul Ibanez, got on base with a HBP and single, respectively. Ibanez' single advanced Utley to third with no outs. It looked like the Phillies were going to have a big first inning, but then A.J. struck out Ryan Howard and Jayson Werth, and induced a groundout by Shane Victorino to end the inning. At that point, I had hope that A.J. was going to turn it around and shut the Phils down. Unfortunately, it didn't happen as later innings saw home runs by Carlos Ruiz, Jayson Werth, and Raul Ibanez.
AP
Ibanez has been a great replacement for the departed Pat Burrell, now with the Tampa Bay Rays. I knew that Ibanez could hit when he was in Seattle, but he's surprised me with his power so far this year (16 home runs). He was an excellent free agent signing by the Phillies.
AP
Chien-Ming Wang, called up to work out of the pen instead of remaining in Scranton/Wilkes Barre for one more minor league start, pitched the final 3 innings. He gave up six hits and two runs, including the Ibanez homer (which was absolutely crushed). I guess if there's a bright side, Wang did lower his ERA from 34.50 to 25.00…
Reuters
The Yankees did hit three home runs themselves (Alex Rodriguez, Derek Jeter, and Mark Teixeira). Unfortunately, they were the non-threatening solo variety (no men on base).
Brett Myers (4-2) was the winner, while Burnett (2-2) took the loss. The Yankees remain in third place, a game behind the Red Sox and 1 ½ games behind the Jays as both of these teams lost too. Right, Julia?
I was fortunate that Johan Santana was on the mound for the Mets in their victory over the Red Sox. The game marked the return of Daisuke Matsuzaka from the DL. I have Dice-K on my fantasy baseball team. He was a recent "free agent" pick-up (which still amazes me) when the owner who drafted him cut him when he placed on the DL. Too bad Theo doesn't make moves like that…
Julia, I couldn't but help to notice a couple of linescores.
David Ortiz
| | | | | | | | |
| --- | --- | --- | --- | --- | --- | --- | --- |
| AB | R | H | RBI | BB | SO | LOB | AVG |
| 4 | 0 | 0 | 0 | 0 | 3 | 4 | .205 |
Ouch! He kept swinging but there was nothing but air…
Jason Bay
| | | | | | | | |
| --- | --- | --- | --- | --- | --- | --- | --- |
| AB | R | H | RBI | BB | SO | LOB | AVG |
| 3 | 0 | 0 | 0 | 1 | 1 | 3 | .295 |
Okay, not as bad as Big Papi, but it was an "off night" for the 'Yankees'! ;)
Hey Jason, this is for you! We're getting your new home ready at 161st and River…
OFF-TOPIC: THE GREAT LEBRON JAMES
Well, maybe it's not off-topic. He is a Yankees fan after all…
Plain Dealer
Last night's game between the Cleveland Cavaliers and Orlando Magic was tremendous. The Cavs had blown a 23-point lead, and the Magic were up by two points with, oh, about a second left in the game. How can you not love LeBron? While I think that Kobe Bryant is one OF the game's best, LeBron is THE best…
Posted on YouTube by Dailybragger
The next Michael Jordan? Heck, he's the next LeBron James…
–Scott
Posted on May 23, 2009 at 8:58 am

Filed in:

Dailies