June 2014
Welcome to the Bronx!…
With one swing of the bat, Carlos Beltran has arrived as a Yankee.  On Friday night, with the Yankees down by one run and two outs in the bottom of the 9th inning, Beltran crushed his most important hit to date into the left center stands with two on to give the Yankees a 5-3 win over the Baltimore Orioles.
Mark Bonifacio/New York Daily News
For many new Yankees, Masahiro Tanaka excluded, it takes a while to get acclimated to pinstripes.  I remember that it took Jason Giambi a season or so to really feel comfortable.  Brian McCann started his Bronx career a little on the slow side, and in many Fantasy Baseball rankings, his replacement in Atlanta and former backup, Evan Gattis was rated higher among catchers.  He delivered a key hit this past week to win a game and perhaps that was his "moment".  He is starting to hit so there's no reason not to believe that he'll be an offensive force for the remainder of the season.  But Beltran came with high expectations even at his age.  Not to say that McCann didn't, but perhaps the bar is a little higher for Beltran given his history in the City with the Mets.
 Steve Mitchell/USA Today Sports
Ironically, Beltran may never have gotten his "moment" if not for a clutch RBI single by McCann in the prior at-bat.  The game had many heroes.  A diving stop by Jacoby Ellsbury that could have easily bounced past him to allow more Oriole runners to score in the late innings, David Huff limiting the O's to one run in the top of the 9th after an error by Yangervis Solarte, and the very strong performance by Hiroki Kuroda.  Conversely, Solarte could have been the goat with the error, in combination with his inning ending at-bat with two on in the bottom of the 8th.  Nevertheless, at the end of the day, the Gatorade was dunked on Beltran and all was good in the Bronx.
If second basemen were as plentiful as catchers…
I like Francisco Cervelli as backup catcher given his versatility.  But it was still sad to see John Ryan Murphy sent down to AAA.  I know, he'll get the chance to start every day, but I thought he did a great job backing up McCann.  I know that when the Yankees make a deadline move in July, it will almost certainly include one of the young catchers (Murphy or top prospect Gary Sanchez).   If the Yankees somehow swing a deal for David Price (unlikely in my opinion), Sanchez would have to be one of the pieces headed to Tampa.  But in other deals, it's more likely that Murphy will go unless the Yankees move Cervelli.  Austin Romine seems to have become an afterthought.
Have bat, will travel…
I am glad to see that prospect Peter O'Brien is thriving.  Another catcher, he has been performing well at first base and is perhaps an option to replace Mark Teixeira at some future point if he doesn't get moved in July.  Conversely, it is sad to see that talented prospect but oft-injured Slade Heathcott is dealing with, surprise, injuries…
Mark LoMoglio/Yankees, via MLB.com
Sabathia, Nova and Pineda who?…
Hats off to the young Yankee pitchers.  Entering the season, the bullpen was perceived as a weakness but young arms Dellin Betances and Adam Warren have become go-to guys, and represent superior upgrades to guys like Joba Chamberlain and other former relievers.  But the biggest surprise is how well the replacement pitchers, Chase Whitley and David Phelps in particular, have performed.  Vidal Nuno has done a decent job but he is the top candidate to go to the pen or to AAA when CC Sabathia returns after the All-Star break.  It's almost a given that the Yankees will pursue another starting pitcher in July but the reason the Yankees are buyers and not sellers is directly attributable to the support that Whitley and Phelps have provided for ace Masahiro Tanaka and Hiroki Kuroda.
The bearded brigade…
I am glad to see that Phil Hughes has found a home in Minneapolis but I am among those who believe his strong performance would not have happened in the Bronx.  I wish that he could have worked out for him, but he did need the change of scenery.  It wasn't that long ago that Hughes, Ian Kennedy and Joba Chamberlain were cited as the next great Yankee pitching hopefuls, and now they play in Minnesota, San Diego and Detroit, respectively.  The only one that the Yankees received a return for was Kennedy and in retrospect it was not for market value.  Kennedy went to the Arizona Diamondbacks and Phil Coke and Austin Jackson to the Detroit Tigers when the Yankees acquired Curtis Granderson.  Given that Granderson left as a free agent, the Yankees essentially have nothing left to show for the losses of the three former top prospects.
What's with the former Yankees who feel the need to grow a beard when they leave New York?…
ESPN.com
I know the Yankees have history and tradition with their no facial hair policy, but I feel that it is something that the new Steinbrenner regime should consider relaxing.  Some guys just need a beard.  Sorry McCann…
No reminder needed, thank you…
I have to admit that I had almost forgotten about Alex Rodriguez (it was nice) until I heard his name yesterday after it was announced that he had dropped his lawsuit against the team's doctor.  I don't know what A-Rod has left in his bat but honestly I do not care.  I am not looking forward to his return next year and remain hopeful that the Yankees will find a way to sever ties.  But I know that's wishful thinking on my part.  For now, I just have to enjoy that the team is doing fine without A-Rod and know that he is not missed. –Scott
Posted on June 21, 2014 at 8:59 am

Filed in:

Dailies, MLB, New York Yankees, Uncategorized, Yankees
Tags: A-Rod, Adam Warren, Alex Rodridguez, Austin Jackson, Austin Romine, Brian McCann, Carlos Beltran, CC Sabathia, Chase Whitley, Curtis Granderson, David Phelps, Dellin Betances, Francisco Cervelli, Gary Sanchez, Hiroki Kuroda, Ian Kennedy, Ivan Nova, Jacoby Ellsbury, Joba Chamberlain, John Ryan Murphy, Mark Teixeira, Masahiro Tanaka, Michael Pineda, New York, Peter O'Brien, Phil Coke, Phil Hughes, Slade Heathcott, Vidal Nuno, Yangervis Solarte, Yankees
A penny for your hits…
What does it take to buy a hit?  Apparently not the $45 million the Yankees paid to Carlos Beltran or the $85 mil to Brian McCann or $175 million for former Sox centerfielder Jacoby Ellsbury.  This season has been a struggle for wins despite the team's winning record.  It was finally starting to feel a little better at 29-25 but then the Yankees promptly lost 4 in a row.
Playing a good team like the Oakland A's, the Yankees bullpen failed miserably until the final game of the series when David Robertson locked away a win for ace Masahiro Tanaka.  That bleeding started in the series with the Minnesota Twins and was inevitable with the short innings being provided by the replacement starters (i.e., David Phelps, Vidal Nuno and Chase Whitley).  When the Yankees are only scoring 1 or 2 runs a game, the starters need to throw a gem almost every outing which obviously is not realistic given the current state of arms.
I thought the Yankees should have aggressively tried to sign Stephen Drew before the Boston Red Sox re-signed him, and now I feel the same way about slugger Kendrys Morales.  Now that there is no longer draft pick compensation tied to him since the MLB started yesterday, I felt the Yankees should go after him.  Maybe they are, but there's competition.  Based on yesterday's first draft pick for the Yankees in the second, had they signed Morales earlier, the cost would have been lefty reliever Jacob Lindgren who is already projected to make an appearance in the Yankees bullpen this year.  But now it's an open field for Morales and the Yankees have reluctance, wanting to see how Mark Teixeira and Carlos Beltran perform.  In my opinion, the odds of one or both going back to the DL at some point is very high, and the designated hitter, Alfonso Soriano, is not hitting, so I would aggressively pursue Morales to cover 1B/DH.  Ironically, Morales is the guy the Los Angeles Angels turned to when Mark Teixeira left as a free agent.  It worked out well for the Angels and I think it can work out well for the Yankees.  No ifs, ands, or buts, the Yankees need a proven consistent run producer in the middle of the order.  I agree with those who say the Yankees sorely miss Robinson Cano's bat.  Ironically, the Yankees were also unable to re-sign another slugger having a good year in Milwaukee this year (Mark Reynolds) despite the usual anemic batting average.  Those home runs would look pretty good about now in Yankee Stadium.
 Courtesy:  hailstate.com
On nights the Yankees are scoring only a run or getting shut out, I even see guys like Milwaukee's Lyle Overbay, another 2013 Yankee, driving in a couple of runs for his new team.  And of course, who delivered the key hit in the Yankees last game with the Twins when the Yankees bullpen collapsed in the late innings?  None other than former backup shortstop Eduardo Nunez.
At this point, the Toronto Blue Jays are starting to run away with the division.  They are clearly playing like the class of the division and they just came off a very successful series against perennial AL contender Detroit.  If I had to pick two teams playing in the ALCS right now, I'd pick the Blue Jays and the Oakland A's.  If the Yankees do not figure out how to fix the current offensive drought, they really will be offensive and done for the season in September.
Not everybody was meant to be Mariano Rivera…
Nothing against David Robertson but I am still not sold on him as the team's closer.  Sure, replacing Mariano Rivera is big shoes to fill.  However, I still think that Robertson's stuff plays best in a Set Up role.  I have been intrigued with the possibility of trying Dellin Betances in the role, but he needs more major league experience so maybe next year.  The reliever the Yankees picked yesterday (Jacob Lindgren) is also a future possibility.  If Robertson blows a few more games like he did against Minnesota, I'd really consider using Andrew Bailey in the role when he gets healthy…for now.
I love you, I love you not…
Speaking of former Yankees thriving outside of New York, both Phil Hughes and Joba Chamberlain seem to be doing fine.  Hughes even captured a victory in the Bronx with the aforementioned bullpen collapse, a place that he couldn't buy a win last year.  Chamberlain has a couple of saves and a decent ERA.  I can't say that I've watched him too closely but his stats seem to say that all is good.  Why couldn't have these guys performed like this last year?  Rhetorical question and of course, there is something to be said about the pressure of playing in New York.  It's not for everyone.
Farewell to a champion…
It was sound to hear about the passing of former Yankees bench coach Don Zimmer this week.  The image of Zim sitting next to Joe Torre on the Yankees bench is forever burned into my memory.  He was such a part of those late 90's championships and he helped mold Torre into a Hall of Fame manager and one who will soon have his number retired in Memorial Park.  I realize that sooner or later, all of us must depart.  But still, it is sad to see Zim go now.  I understand he had been in poor health since April and hopefully he is now at peace.  He will be missed as he was truly one of Major League Baseball's landmarks.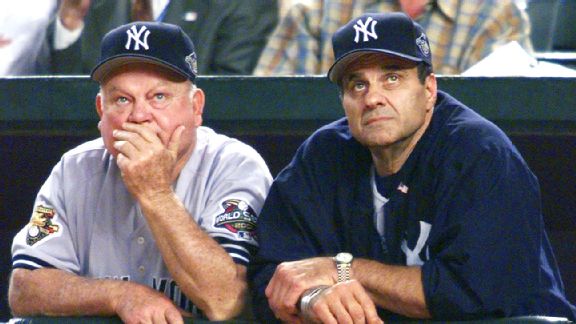 Courtesy:  Keith Torrie/New York Daily News Archive/Getty Images
–Scott
Posted on June 6, 2014 at 8:00 pm

Filed in:

Dailies, MLB, New York Yankees, Uncategorized, Yankees
Tags: A's, Alfonso Soriano, Andrew Bailey, Blue Jays, Boston, Brian McCann, Carlos Beltran, Chase Whitley, David Phelps, David Robertson, Dellin Betances, Detroit, Don Zimmer, Eduardo Nunez, Jacob Lindgren, Jacoby Ellsbury, Joba Chamberlain, Joe Torre, Kendrys Morales, Lyle Overbay, Mariano Rivera, Mark Reynolds, Mark Teixeira, Masahiro Tanaka, Minnesota, New York, Oakland, Phil Hughes, Red Sox, Robinson Cano, Stephen Drew, Tigers, Toronto, Twins, Vidal Nuno, Yankees